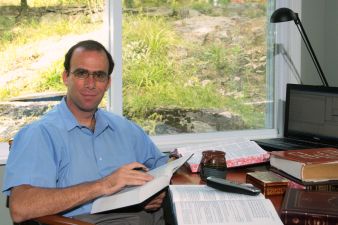 T O P I C S :
General Interest
Jewish Interest
Christian Interest
Jewish Education


Watch Dr. Hoffman teach about the Ten Commandments.
PRAISE:
"Joel Hoffman has the 'it' factor ... [Hoffman] is one of the most engaging speakers today."


- Jewish Georgian

"For fresh insights and interpretations about religious life in the 21st century, Joel will not disappoint you."


- Rev. Richard Vosko

"An erudite, witty, engaging and compassionate teacher."


- Rabbi Debbie Zecher

"A master teacher extraordinaire ... his talks are filled with information and ideas."


- Rabbi Danny Zemel


To arrange a speaking event, class, or book signing, contact Mariann Donato at Macmillan Speakers (tel: 646/307-5567), or contact Dr. Hoffman directly. To arrange books, start here.

Dr. Hoffman lectures across the globe on a wide variety of topics, and is known for engaging popular and academic audiences alike. Some of his most popular presentations include:

General Interest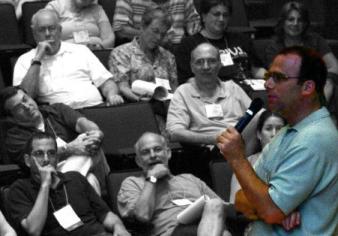 Dr. Hoffman's keynote address at CAJE 32
Washington University, St. Louis
"On the Bible's Cutting Room Floor."

(New!)

What happened to Adam and Eve after they left the Garden of Eden? What was Abraham like as a child? Who are the Watchers? And why aren't any of these stories in your Bible? Learn about the fascinating ancient texts that were cut from the Bible, and discover what they can teach us about the Bible and about our lives today.
"The Bible Doesn't Say That." From misrepresenting the Ten Commandments to turning courtship into a felony, bad translations of the Bible have led millions of people astray. Learn the fascinating story of what happened and discover the truth behind many of our most common quotes from the Bible.
"The Mystery and Majesty of the Dead Sea Scrolls." Since their discovery six decades ago, the Dead Sea Scrolls have captured the popular imagination, and created more controversy and intrigue, than any other ancient find. Hoffman offers a fascinating introduction to the content and history of the Dead Sea Scrolls.
"The Alphabet Story." Three thousand years ago, a minor change to an otherwise obscure writing system paved the way for the alphabet and widespread literacy. Hoffman explains where writing comes from and why it's so important.
"Three Thousand Years of Jewish Continuity as Seen Through Three Thousand Years of Hebrew." An exploration of the remarkable history that links the Jewish people to its historic language and identity through time: the fascinating story of how Hebrew began, why almost every written alphabet today can trace its roots to Hebrew, how Hebrew developed, where the text of the Bible comes from, the relevance of the Dead Sea Scrolls and other ancient manuscripts, and finally how modern Israeli Hebrew developed.
"Four Exiles and Four Spiritual Revolutions: From the ancient prophets to modernity." Judaism has seen four spiritual revolutions, each in the wake of a major exile. This is an engaging and uplifting look at North American Judaism - the last spiritual revolution - as seen in the context of the last 3,000 years.
"What Did Jesus Quote?" Jesus frequently quotes the Old Testament. But we read about what he said in translation, and we read about what he quoted in double translation, first from Hebrew into Greek, then from Greek into English. Learn what Jesus thought the Hebrew meant when he quoted it.
"Putting the Hebrew Back in Hebrew School." Focusing on the Hebrew aspect of after-school education, Dr. Hoffman addresses four goals that the major printed curricula all include. He discusses why in principle they cannot work, and how they lead to frustration and worse among students, teachers, and principals alike. Having presented what cannot succeed, he works toward practical solutions that can vastly improve after-school Hebrew education. (This material is also suited to a workshop or full-day seminar with Hebrew teachers and principals.)
"This Is Your Brain on Hebrew." What happens when a child's brain learns Hebrew? What about a teenager? Or an adult? Why is studying at night more effective than studying during the day? And how can we use this information --- and much more --- to improve our Hebrew schools? If you are designing a Hebrew program, teaching in one, or if you're just curious about what's really going on, you'll want to hear this.